(Kiel 1874-1935 Braunschweig)
was a German painter (and printmaker) who, in her times was much praised for her sea paintings. She'd started her studies privately with marine painter
Georg Burmeister
(1864-1936) who's influence and use of colour is evident in all her sea related paintings.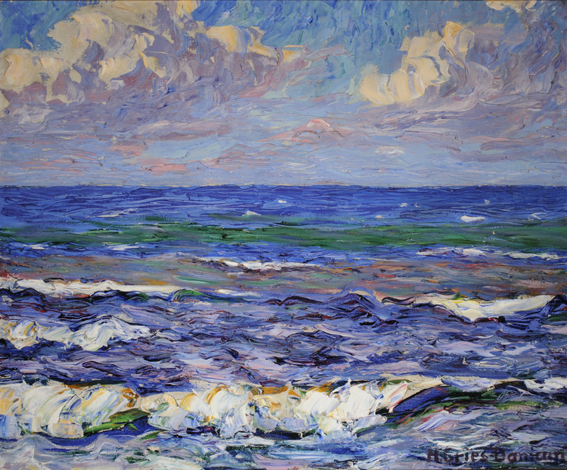 Master and Student: Georg Burmeister and Helene Gries-Danican.
The similarities with Max Beckmann's (1884-1950) 1907 "Seestück" (lower) are striking. She will have met Beckmann while studying with Burmeister in Berlin(1906-1908).
-------------------
She also entered Dresden "Kunstschule Kops" the privately run by Georg Lührig (1868-1957) painting school and studied with Dora Hitz (1856-1924) who'd moved from Dresden to Berlin in 1892. As daughter of a well to do notary in Kiel she was also allowed to study (1903-04) in the Academie Colarossi in Paris ending her studies in 1908 with again Georg Burmeister in Berlin.
In childhood she had to undergo surgery (probably because of an inner ear infection) which left her disabled after the facial nerve was damaged with a paralyzed and drooping right side of her face and a hearing impediment. Recently more attention to her work and biography was given by a publication by a grand-nephew. And her work was exhibited in 2008.
Finding these two very Japanese colour woodblock prints in the Internet was a pleasant surprise. I could not find datings but I wonder what may have inspired her because there's not much to compare them with besides the 1906-08 Japanese lantern prints by American printmaker

Bertha Lum (1869-1954) but that seems too far fetched and unlikely.
More probable are the Munich artists Martha Wenzel (1856-1943) iconic "Spaziergang" (1907),
and Martha Cunz (1876-1961) who did several "night scene" prints (in shades of gray and a strong colour component) around 1905-06.
Studying in Berlin 1906-1908 places her also in the times of Emil Orlik who came from Munich to Berlin in 1905 to teach woodblock printmaking. It is frustrating so little written evidence is left or delivered to us although this period is called "recent history". In Germany this is because of the devastations of archives, buildings and complete city's in during WW2.
All pictures borrowed freely from the Internet for
friendly, educational and non commercial use only.